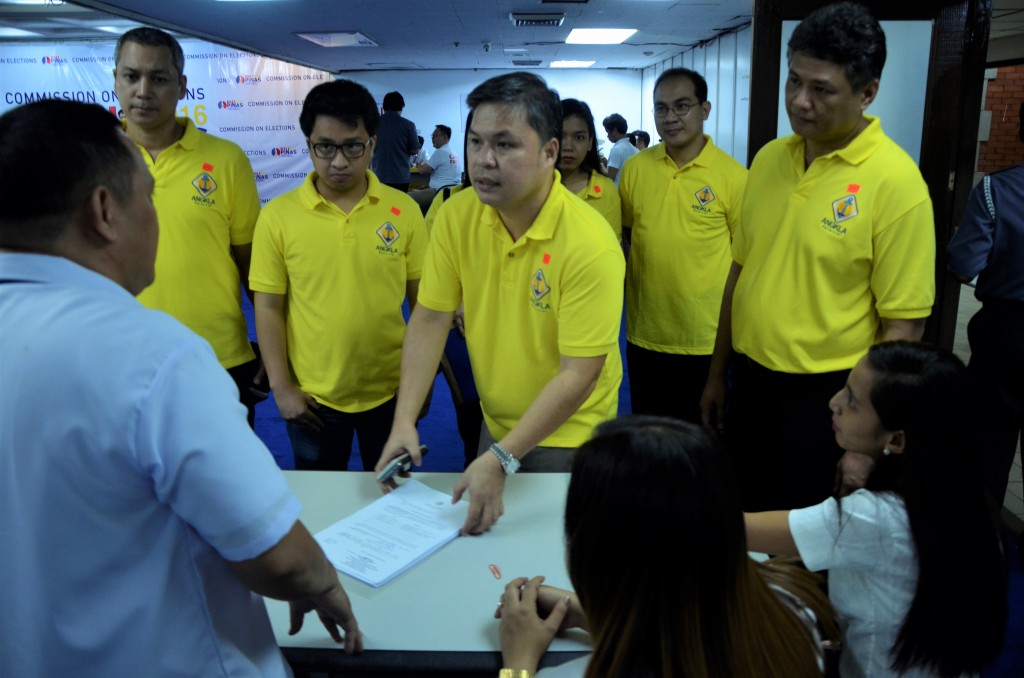 MANILA—Seeking to continue steering the country towards its maritime nation vision, ANGKLA Party-list was among the first sectoral parties to manifest its desire to participate in the 2016 elections. Members of the ANGKLA Party-list, through its President Atty. Augusto Perez, Jr.; Secretary General Atty. Bernadette Yanzon-Blanco, and Press Relations Officer Chief Engineer Peter Lugue, filed the Certificates of Nomination and Acceptance of the Nomination at the Commission on Elections today.
ANGKLA Party-list is the first and only party to represent the maritime sector in Congress.
Leading its formidable list of nominees is incumbent ANGKLA Representative Jesulito A. Manalo. Cong. Manalo, a son of a ship captain, is a maritime lawyer. Next in the roster is Capt. Ronaldo Enrile, who is affiliated with the private sector. Completing the list are Atty. Augusto Perez Jr., Chief Engineer Petercon A. Lugue, and Atty. Bernadette Yanzon Blanco as third, fourth, and fifth nominees, respectively.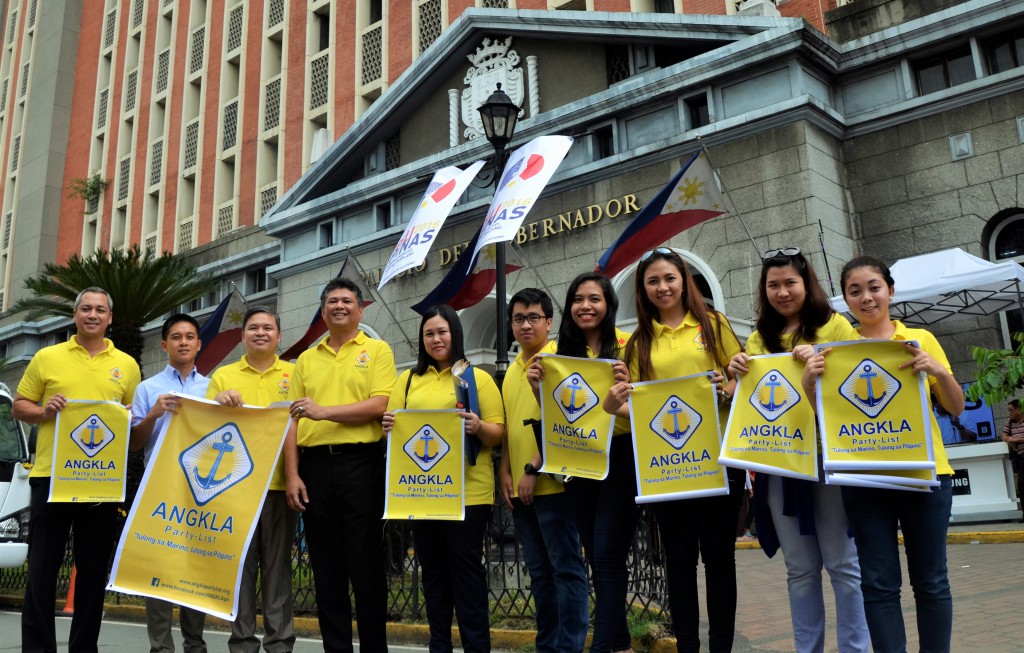 Speaking to members of the press, Cong. Manalo said: "The maritime industry incessantly needs a voice in Congress, which would constantly champion the various concerns of the industry, and guarantee it the attention and importance it deserves."
"We, in ANGKLA, remain adamant in our efforts at promoting that the industry be always included in the main agenda of the Philippine government, and made part of the political, economic and social consciousness of the country and its people," he added.
"During ANGKLA's first term in Congress, we endeavored to institute far-reaching reforms in the maritime sector," he said.
"Finally, the maritime industry was extended an opportunity to be significant, attended to, and to improve. We seized it and by now have introduced and supported more than a hundred laws, resolutions and policy reforms that will better promote shipping and resolve other matters of national importance," he explained.
Despite being a neophyte in Congress, ANGKLA's Rep. Manalo was able to pass landmark legislations such as R.A. 10635, which created a single maritime administration for implementation of STCW. The measure intended to cure the then imminent loss of employment and sources of livelihood of our Filipinos seafarers and their millions of dependents, due to the Philippines' failure to aptly comply with the STCW and other international conventions.
ANGKLA also passed the Liberalization of Philippine Cabotage Law, which effectively brought down the prices of commodities.
Soon to become laws are the ANGKLA's Naval Architecture Modernization Bill, which seeks to elevate the practice of naval architecture, and the Seafarers' Protection Bill, which imposes a cap on the fees which can be charged by lawyers to 10% of the monetary claims of seafarers. Both measures have already been passed on Third Reading by both Houses of Congress, and are merely awaiting the signature of President Benigno Aquino III.
Apart from performing its legislative mandate, ANGKLA also catered to the needs of its constituents through its social programs. ANGKLA provided scholarships and granted medical assistance to seafarers and their families. The party-list also led the distribution of seedlings and sports equipment, and provided funding for the construction of multi-purpose halls in localities with numerous resident seafarers.
"Truly, ANGKLA has been continuously fighting for the rights of the seafarers, and this public duty has always performed even when the seafarers are beyond our borders. Testament to this was when ANGKLA best replica watch was at the forefront in the release of the 4 Filipino seafarers, who were unjustly detained in Argentina," Cong. Manalo said.
"Notwithstanding these milestones, much remains to be done in order to fulfill ANGKLA's vision," emphasized Cong. Manalo.
"Thus, once again, ANGKLA seeks to be at the helm in Congress in order for it to continue transforming the Philippines into a true maritime nation with more world class vessels, which will be built by world class Filipino ship builders in the Philippines, manned by world class Filipino crew, registered under Philippine flag, operated by Philippine ship management companies, and owned by no less than Filipinos," the incumbent ANGKLA representative concluded.